During my greebo and then emo phase as a teenager I was obsessed with t-shirts with quirky shit on them like this gem...
Quirky t-shirt? Check. Black hair with a big sweepy fringe? Check. Weird scrunchy pout? Check. Must be MySpace!
I grew out of my emo kid phase, thankfully and gradually put weight on (they weren't linked...) which meant t-shirt options were seriously limited. Slogan t-shirts don't tickle my fancy at all. I think because I very rarely wear jeans I feel like I want my top to be fun and different. Enter,
Nicky Rockets
!
"T-shirts designed for, and inspired by, all the curvy super women in the world", Nicky Rockets was created by the fabulous duo of
Betty Pamper
and her awesome husband, Nick. All five designs feature a sexy, curvy goddess and are available in standard round neck, slash neck, vest and lady fit from a size small right up to XXXL. For reference I'm wearing an XXXL here and I'm a size 24. If I wanted a really tight fit I could have gone down a size.
Another thing that was eradicated with my emo phase was black clothing so I added a pop of colour to compliment my big boobied babe. I adore
these shoes
and they've featured quite heavily in my outfit posts this summer but with the onset of dewy morning grass and cold toes they're going to be retired soon so I'm getting the most out of them! Fortunately I had a cardigan lurking in my wardrobe that matched it perfectly.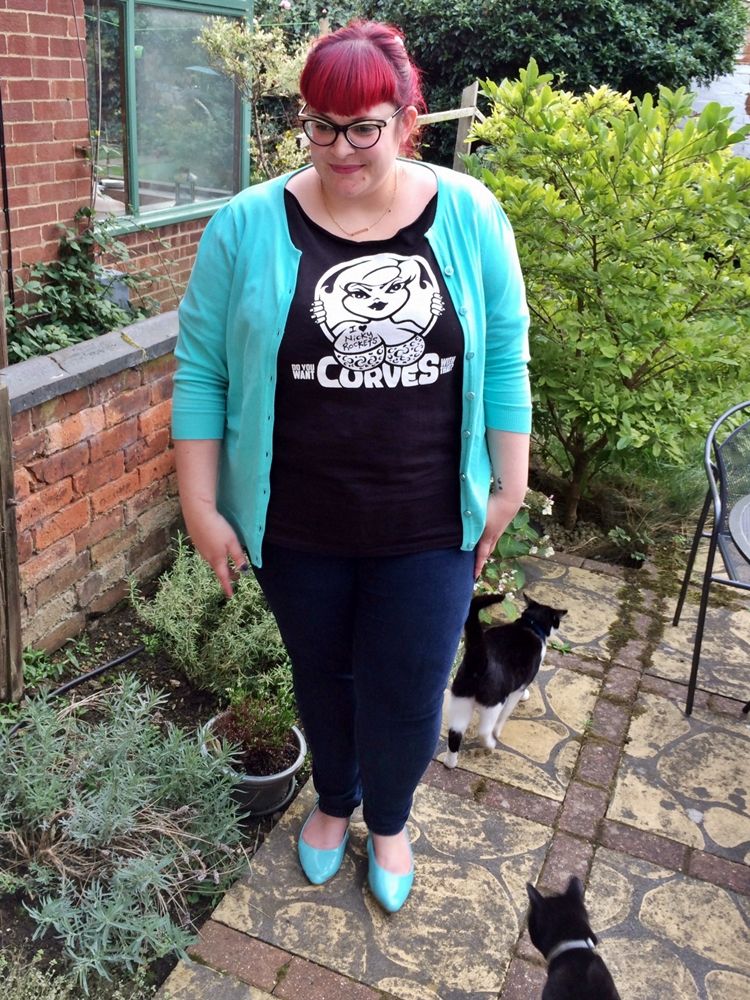 The cats just can't let me have any of the limelight.
I got this sweet hair bow at Twinwood, I wish I could remember the name of the shop! My hair is shit so focus on the bow and cherries...
Love,
Mrs D x