If you had told me 15 years ago whilst I was secretly listening to You Can Make Me Whole Again in my bedroom (because I was clearly too cool for pop...) that I would one day be meeting one of Atomic Kitten to chat about swimwear, I would have thought you were from another world. Partly because swimwear was not my friend and partly because pop stars were surely not real people. Oddly, it turns out they absolutely are and what's more they have the same thoughts and feelings about things as you and I do!
Unfortunately on the morning of the day I was set to meet Liz McClarnon to talk about her
swimwear collection for Fashion World
in a swanky London hotel I had a pretty tough hospital assessment that ran over a lot longer than I expected and as such I missed my train. And thanks to National Rail and their ridiculous train prices I couldn't stump up the 5 times what I'd payed in advance for to get on the next train. Not a great day for Mrs D! However, I had a little fairy godmother in the form of Fiona from SRPR who very, very kindly asked me if I had any questions she could pass onto Liz. I'm obviously gutted that I didn't get to meet her in person but it was brilliant to still get a few of my questions answered and to get a general feel for what she wanted from her swimwear collection.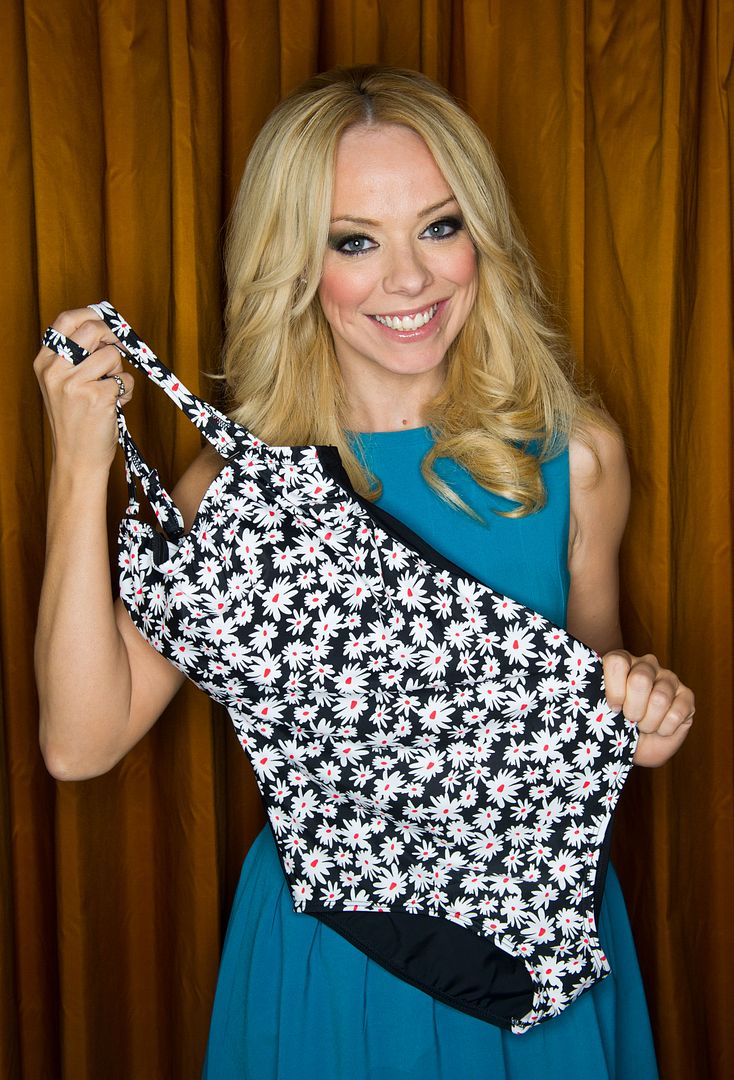 It's so refreshing to have someone who isn't and has never been fat fighting the fat corner. It's easy to assume that only the ones affected care but it's clear that that just isn't the case with Liz. The choice to make her collection available right up to a size 32 was an easy one for her as she feels, like many of us, that "no matter what size you are if you like the look of something, you should be able to wear it".
I asked Liz how her own body confidence has changed over the years in terms of being in the limelight especially as a young teenager. Unsurprisingly she said it was tough during her teens but she couldn't give too hoots now, that we have a loyalty to ourselves to keep ourselves happy which is incredibly true. It's all too easy to get caught up in other people's perceptions of how you should look or act and it starts to chip away at you eventually. The majority of the time the people you listen to are so insignificant and it helps to take a step back occasionally and focus on doing what makes you happy and feel good.
She's definitely a girl after my own heart with the kitschy, retro prints of her swimwear especially the use of flamingos which are my latest obesssion! I've recently decided to get back into swimming and have been looking for something that will make me feel fabulous, because why should I have to give up my style just because I'm in water?! These swimsuits, along with my new Fashy bubble swim hat are perfect for my foray into chlorine. I was sent the flamingo swimsuit above which I'll be reviewing in the next couple of weeks.
I'm sad I didn't get to meet Liz in the flesh but I enjoyed putting this post together and I hope our paths cross again one day!
These bloggers did get to interview her so go and have a read of their experience!
Love,
Mrs D x
ps. Big thank you to Fiona from SRPR for being so helpful!