A little while ago Panache kindly offered to send me the beautiful
Panache Dahlia
to review in my usual size of 38J. It's a bra I've looked at a lot when I've fancied a some new boob scaffolding but for some reason it never made it into my basket.
It's a pretty balconnet bra with floral detail along the top section of the cup. I normally avoid bras with a delicate top section as my top heavy boobs tend to bulge over the sturdier part of the cup resulting in four boob syndrome. With this bra however, despite the top section being very delicate and soft, my boobs stayed firmly in place.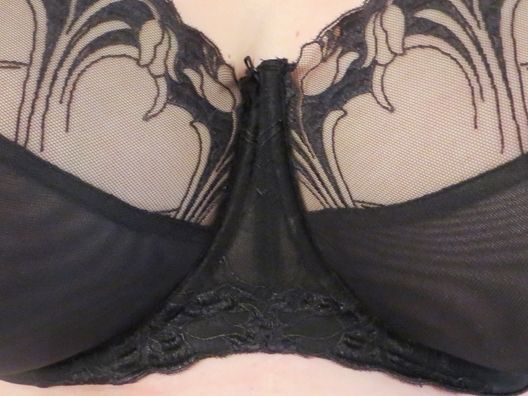 Firm is definitely the key word I'd use to describe how the bra fits overall. The band on Panache bras tend to be quite firm fitting which some people loathe but personally I like a good, solid support for my massive boobs! As well as being a firm fit, the band is nice and wide which adds to the feeling of support, plus it means I wasn't constantly scooping my abundance of side breast tissue forwards. The thing I like most about Dahlia is the padded straps. Even having the best fitting bra in the world doesn't stop big boobs taking it's toll on your shoulders after a while but having padded straps certainly makes it a little easier on them. However, the straps were a little too far set apart for me and my abnormally narrow shoulders so rubbed quite a bit in in my arm...crevice (that's not a nice word haha!).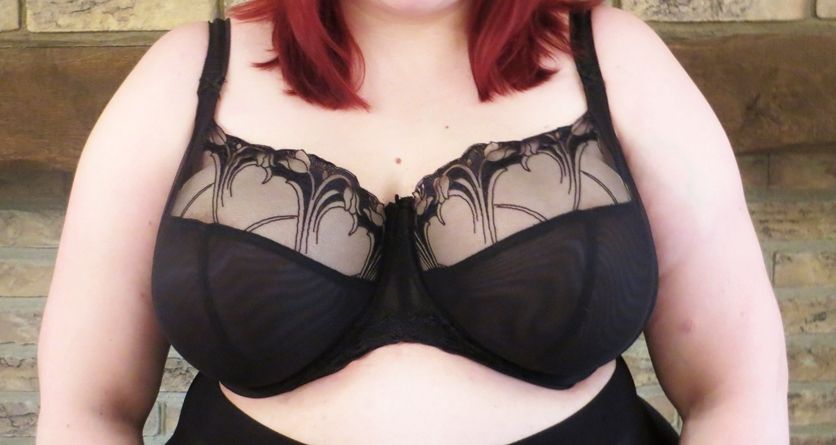 The central gore sat flush with my chest and the band was horizontal all the way round my body; two signs of a good fit! Dahlia gave me a lovely, rounded shape underneath my clothes and I felt nicely uplifted. Other than the wide set straps I have no complaints whatsoever and as a result of trying this bra I went an ordered the gorgeous
Jasmine
which is quite possibly the most uplifting bra I've ever worn. My boobs are quite literally under my chin in it!
Panache Dahlia
comes in two colourways; black and nude and goes from a 30D up to 38J. You can buy it from
Brastop
for £30.
Love,
Mrs D x
ps. Here is a bonus photo of me trying to explain the workings of a bra to my husband haha!