It's no secret how much I love
Scarlett & Jo
and with the launch of their new Spring Romance collection to celebrate their first anniversary, it's quite obvious why. Taking inspiration from classic vintage styles the collection is made up of timeless 1940's tea dresses and fun prom dresses, both of which are right up my vintage loving street.
I was very kindly sent one of their four newly released Retro Button Front Midi Dresses to review in a beautiful floral bouquet pattern. Every little detail on this dress is perfect, from the slightly padded shoulders to the fabric covered buttons and sweetheart neckline. As with all S&J dresses it's been so well thought out and catered to a fuller figure whilst keeping true to a really classic vintage style. I'm all about empire waistlines, mid-length sleeves and a swishy skirt and this fancy frock ticks all the boxes!
I got my usual size 24 and like all other Scarlett & Jo dresses I've tried, it fits really true to size. I would have preferred it to be a teensy bit longer but at 5 ft 8 it's quite rare I find a dress that even tickles my knees! The jersey material is lovely and stretchy but still quite heavy so the skirt swings beautifully.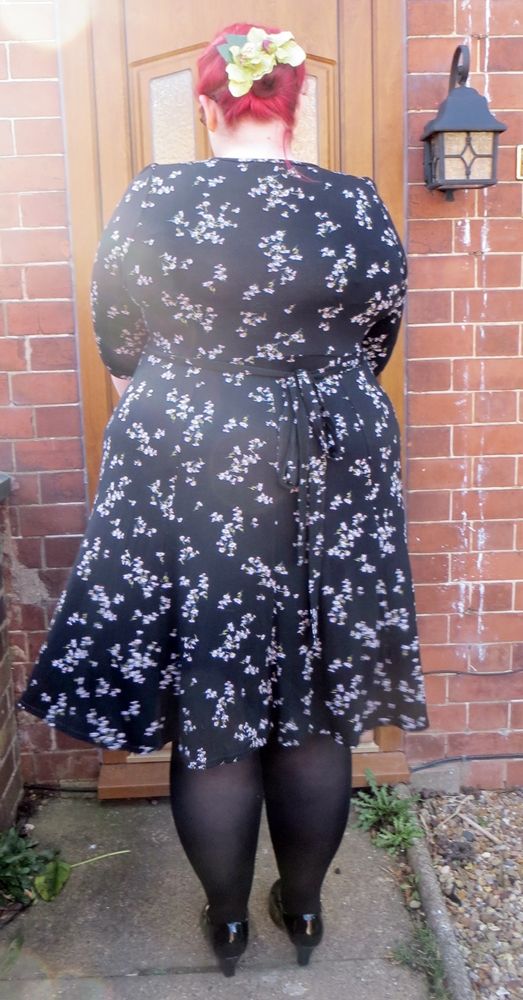 My big bum in all it's flowery glory.
Look at that beautiful detail! And not my wonky smile...
My lovely hairy husband has booked us tickets to see Breakfast at Tiffany's tonight at the
Errol Flynn Filmhouse
in town so I'm definitely going to be wearing this beautiful dress that has stolen my heart! I cannot wait to add the other three designs to my wardrobe, right after I make the Floral Prom Dress mine... I would ask S&J to stop making pretty dresses because it makes my purse cry but I'm pretty sure that would be a crime against humanity. Here's to another incredibly successful year!
Love,
Mrs D x