I spent last Sunday with my gorgeous friend
Sarah
who I've known for years and years. We went to a local diner for brunch (hence my dress choice!) and then to have a wander round a 1940's fair at
The Bakehouse Antiques Centre
in Northampton.
My good friend,
Luli Blue
has her very own shop within the Bakehouse called Heartbreaker which sells some incredible vintage finds. Until she opened her shop I didn't know the place existed! It's tucked away on a road I've driven down a hundred times but I've never noticed. It's a treasure cove of antique and vintage goodies. I wasn't planning on buying anything but I did pick up 4 Gil Elvgren pin-up cards which I'm going to turn into coasters (keep an eye out for a post on that later on in the month!).
The lovely
Aurora Loves
was there doing vintage hair so I got her to do something with mine! I told her she could do what she liked and this is what she did...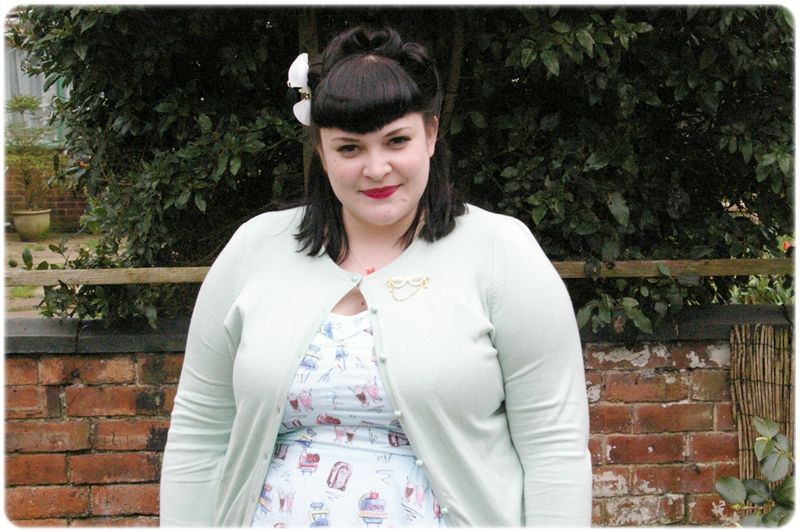 She did a series of curls on top of my head which is something I'd never done before. I rather liked it! I've never really ventured beyond the beehive/headscarf combo and victory rolls so this was quite exciting for me. I'm definitely going to start playing around with my hair a bit more now.
Brooch from...my friend for my birthday!
Eyebags from a severe lack of sleep in the last two months.
Hope you've all had a lovely bank holiday!
Love,
Mrs D x