A few weeks ago I hosted Northampton's first Plus Size Clothing Swap at my favourite vintage shop A Most Marvellous Place to Shop in their cafe. Inspired by
Lolly and Rebecca
who recently hosted one in Leeds, I decided to give it a whirl. It took more planning than I had anticipated but I ended up really enjoying it. My mum helped me out loads with printing and laminating tokens (which were exchanged for items and then 'spent' on new ones) and size signs and I had two friends who helped me out on the night as well as my lovely husband.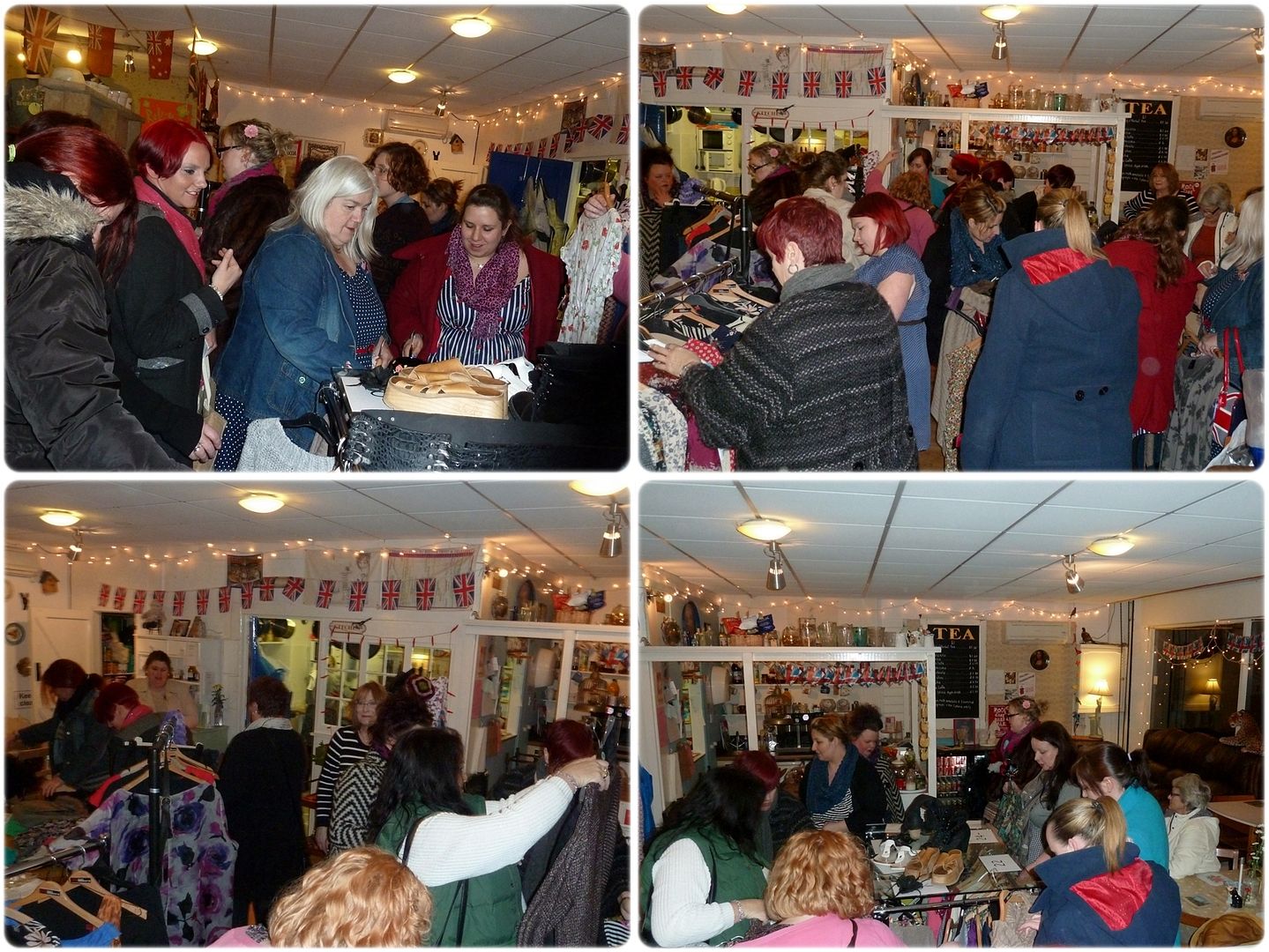 There was a bit of a surge to get to the clothes at the beginning!
Despite being enormously nervous that nobody would turn up or they would and it'd just be a huge, disorganised disaster, it went really bloody well! We did run out of tokens very quickly but that didn't matter too much in the end and at least now I know I need more for the next one. I handed out feedback forms during the evening and everyone was really positive. The only thing that flagged up was the lack of physical space we were given but fortunately after popping into the shop yesterday, they've had a little reshuffle and the cafe space is much bigger!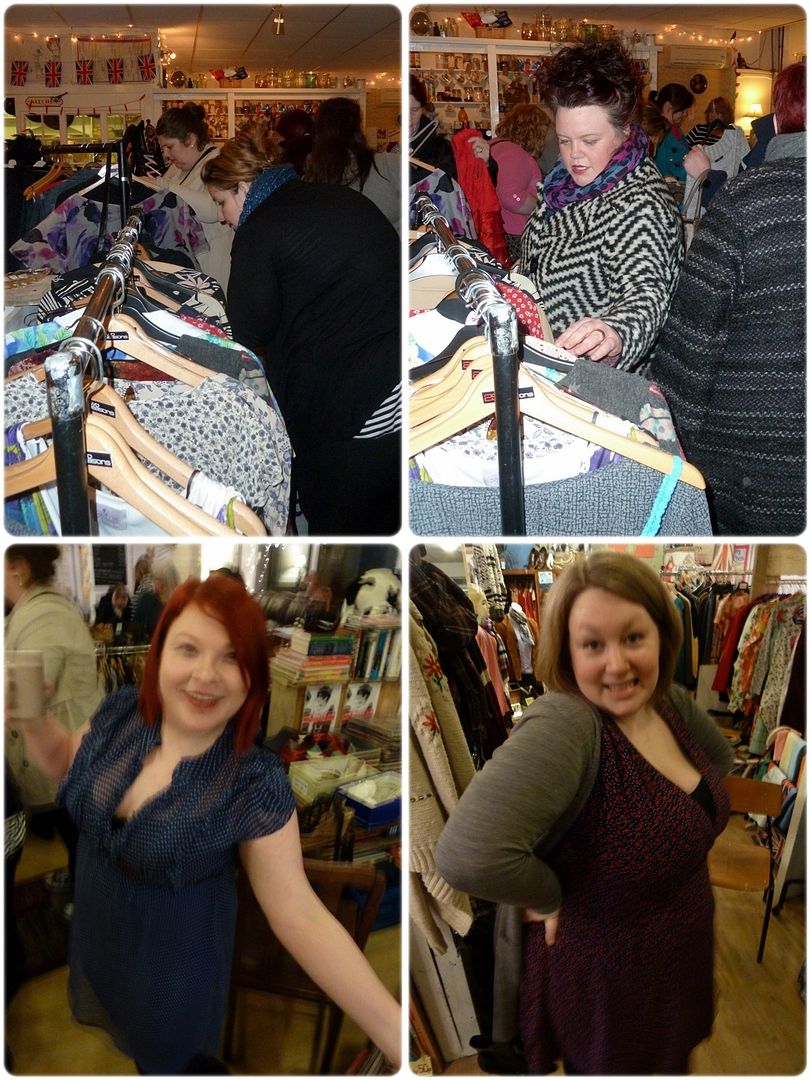 Browsing! And my two gorgeous helpers, Sinead and Robyn.
It was wonderful to meet so many gorgeous women all of whom seemed so pleased to have an opportunity to find new pretty new clothes and new friends. I loved seeing people sitting down with a cup of tea and a bit of cake towards the end of the evening, it was exactly what I'd hoped for.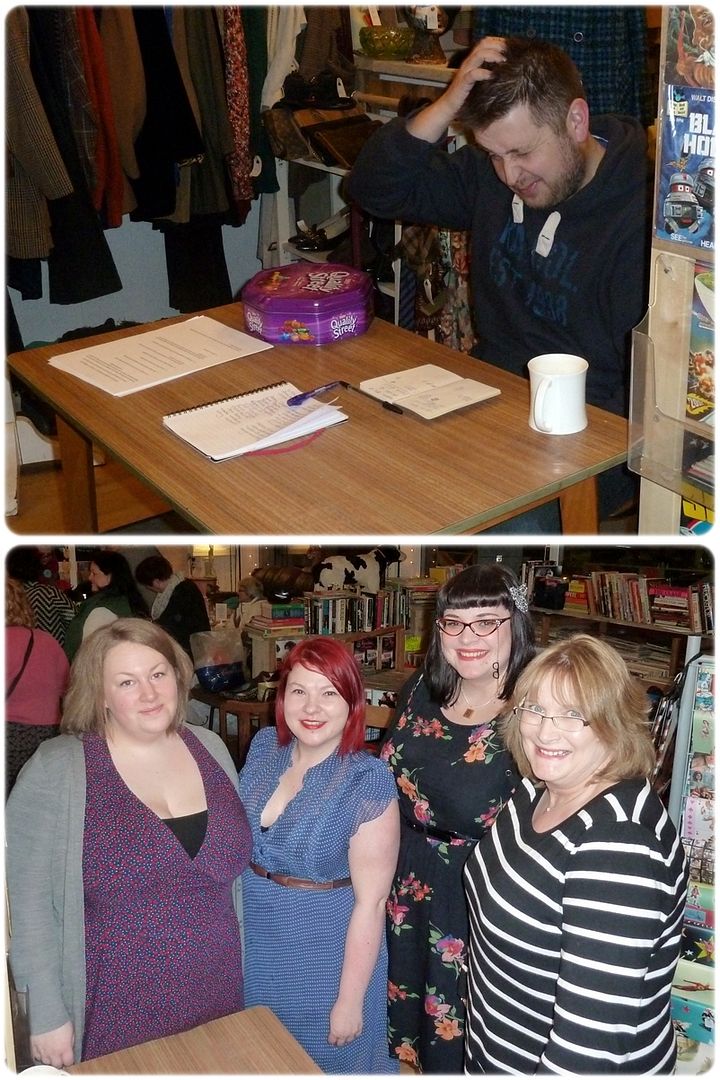 My darling husband's 'I'M UNCOMFORTABLE WITH ALL THESE WOMEN' face!
Robyn, Sinead, myself and my mama.
The feedback was so positive it made my heart swell! I wanted to create a supportive, non judgemental environment where plus size women could celebrate their love of fashion and it definitely worked. I can't wait to do more so in the spirit of continuing the fun
the next swap
is taking place on Thursday 30th May so if you're in the Northamptonshire area or know anyone who is, come along!
Love,
Mrs D x