Whenever I'm at my mum's in Bury St Edmunds I try to pop into their local L'Occitane shop. We don't have on in Northamptonshire and although I can easily buy online I really prefer going to see and smell products before I buy them. Today was definitely a good day to be there because upon entering the shop we were offered a glass of sparkling wine and a chocolate which is a sure fire way to my heart!
For once I was going in with the intention of actually buying a specific product rather than just having a nose. I was after some
Shea Butter Hand Cream
for my husband.
He works in a special school and has to wash his hands a lot during the day, plus he's an avid fisherman so spends a lot of time outdoors. This means his hands get very, very dry and easily crack. He doesn't like overly sweet smelling hand cream or cream that makes his hands feel greasy. L'Occitane's Shea Butter Hand Cream has the usual mild smell of shea butter but isn't too powerful and absorbs really quickly so doesn't leave his hands all slimy. I originally bought this for myself about a year ago but he soon adopted it and has been using it ever since. The travel sized tube lasted about a year although he does only really use it during the winter months. At £8.00 for 30ml is it quite expensive but a little goes a long way and if you use it regularly it keeps your hands soft enough that you end up using less anyway!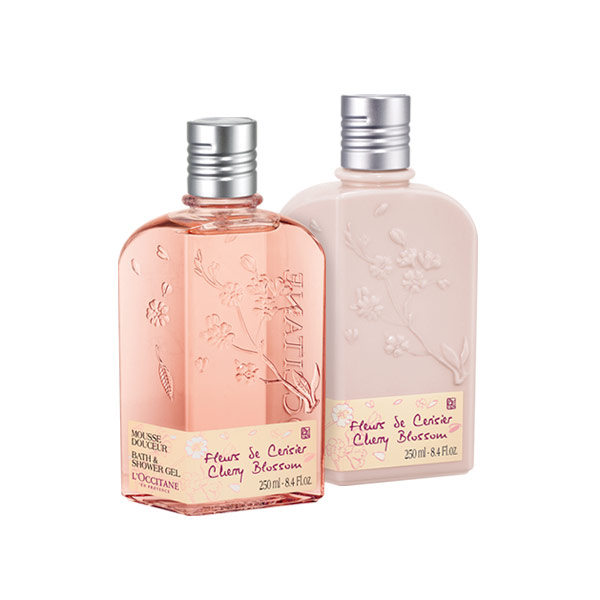 I've always really liked L'Occitane's
Cherry Blossom range
. I'm always more drawn to floral-y type smells but this isn't too...granny-floral, it has a hint of sweetness too. Plus the packaging is really pretty! I didn't want to invest in the Eau de Toilette because I already have a couple of perfumes that I love and use every day but I did think I'd give their Cherry Blossom solid perfume a whirl.
I can keep it in my handbag and rub a bit onto my wrists or neck when I'm out and about. I put a bit on at around 2pm today and I still got a whiff of it while I was cooking dinner at 6pm. That doesn't seem like a long time but considering it's just a rub on type thing I was quite impressed. I think ideally it should be used along side their Eau de Toilette as a touch up during the day but until I run out of my other perfume and can't justify buying a new one, I'm happy to keep it in my bag for smelly emergencies!
If you have a L'Occitane near you I strongly recommend popping in and having a look...and not just for the free wine and chocolate!
Love,
Mrs D x